Who influenced your work? Citations are a great way to give attribution to the many sources of inspiration that helped you create a work. Go ahead, stand on the shoulders of a giant or an ant, but give them a name!
---
Examples
Following these suggestions ensures you give due credit to other creators and demonstrates to people who find your content that you truly are a part of a global learning and sharing community. No matter the content, make sure you credit the creator, provide the URL where the work is hosted, indicate if it is available under a particular license, provide a link to the license (so others can find out the license terms), link to the original resource.
Flickr Image
In the example to below, the photographer Sarah Macmillan (username: EssjayNZ on Flickr) has chosen to share her images on Flickr under a Creative Commons BY-NC-SA license. You can reuse this image, according to the terms of the BY-NC-SA license, as long as you provide proper attribution.
"New Zealand, Clouds - 6.10pm" by EssjayNZ - CC: BY-NC-SA
Wikimedia Image
In this example, the illustrator Patrick Lynch has chosen to share his medical illustrations on Wikimedia Commons under a Creative Commons Attribution only license. The citation style is very similar to the image from Flickr as both are CC licensed images available online.
"Head lateral mouth anatomy" by Patrick Lynch - CC:BY
Open Attribute Makes Citations Easy
Open Attribute is a simple tool anyone can use to copy and paste the correct attribution for any CC licensed work. You install Open Attribute as an add on in your browser (Chrome and Firefox are currently supported). Then, when you display a page containing CC licensed content, click on the CC icon in the URL field for the page. A pop-up will appear displaying the correct license info for the content. Open Attribute is a Mozilla Drumbeat project and relies on a team of volunteers for its design, support, and distribution.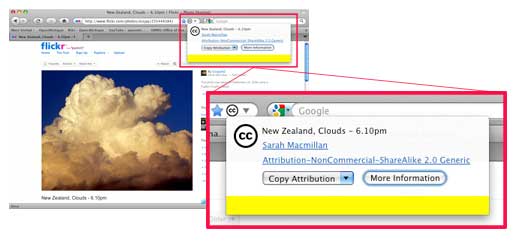 Textual Quote
It is also important to cite all 3rd party (not created by you) content which includes things like quotations. What we were taught in high school still applies here; you should give at least the author's name and title of the work the quote is from. Bonus points if you include a page number or URL to an online version.
---

Select License

Use Content

Cite Sources

Share